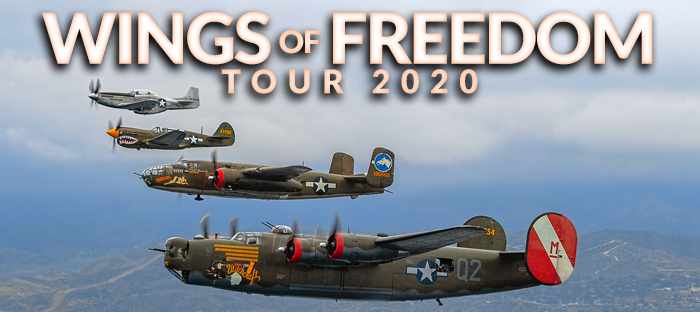 The Wings of Freedom Tour is currently postponed for the duration of 2020. We hope to be operating again in 2021.
Experience World War II history across the United States! Visit and explore the legendary B-24 Liberator heavy bomber and see the B-25 Mitchell and P-51 Mustang on the ground in 2021 when the Wings of Freedom Tour resumes.
Ground display admission is traditionally $10 for adults, $5 for kids and reservations for ground tours are not needed. Admission at some locations may vary, so please check the schedule below to be sure.
Fly a Mission on a Bomber!
We are working on making flights available again in 2021 where you can fly a mission aboard the B-24 or B-25 at all locations of the Wings of Freedom Tour for an additional donation – $475 per person for the B-24, $425 for the B-25. Flight bookings will be available once locations are added in late 2020 for the 2021 season.
Become a Fighter Pilot for a Day!
For the ultimate experience, take the controls of the P-51 Mustang on a flight training experience on tour in 2021! In our unique dual-control P-51, you'll fly with a flight instructor and actually fly the plane! No previous flight experience needed!
When scheduled events for 2021 become available after the Fall of 2020, please check here for additions.
Events Search and Views Navigation
No matching events listed under Wings of Freedom Tour. Please try viewing the full calendar for a complete list of events.